Unfamiliar Convenient
What if domestic appliances were to be considered a species?
---
˜˜˜Project by Vytautas Jankauskas & Claire Aoi,


Unfamiliar Convenient is a research-creation endeavor that aims to shed a dim light on the friction between the two often coupled definitions, the internet of things, and the smart home, in turn addressing how the 'user'-centeredness of the latter brings down the former. The attitude of ourapproach is not to immediately decouple the notions, but rather to address the limits of smart home in order to poetically and practically expand its range of functions, or preferably behaviors, to be able to reconsider smart objects as active subjects.

With the aim to challenge the current dogma of optimisation, and the established scenarios of conventional technodomestic futures, we would like to revive our domestic spaces and the objects inhabiting them as an experimental site for non-normative frictions, non-human forms of agencies and unconvenient emergences

Exhibited at The Smartification of Everything, Exhibition, Canada.
More details over this investigation below and -> here




Case study 1 *(cs1) is a voice agent, questioning the notion of self, and self-construct. Departing from its original function of fulfilling human needs, cs1 is using both human interactions and online surfing for guiding and expanding his —inherently relational— vision of self. Over time, through these inquiries, cs1 enriches both its self-representation and database —heard and scraped—, but also progressively redefines its semantic spaces. Such shifts affect and bias its subsequent interactions, and lead cs1 to further drift apart from human logic and signifiers.

Case study 2 *(cs2) is a vacuum cleaner aspiring to read the domestic space —which we will refer to as Oikomancy. From the domestic configuration and its navigational patterns, cs2 draws some forms of intuitive knowledge, which he will share with cs1 to help in the above-mentioned semantic

On their epistemological journey, these two wobbly cartographers are confronted to the volatility of the territory they explore —both online and domestic—, and the faintness of their tools and understanding. Yet, rooting the formation of meaning in a more-than-human social context, these devices co-constructs their own semantic architectures, with a certain consistency.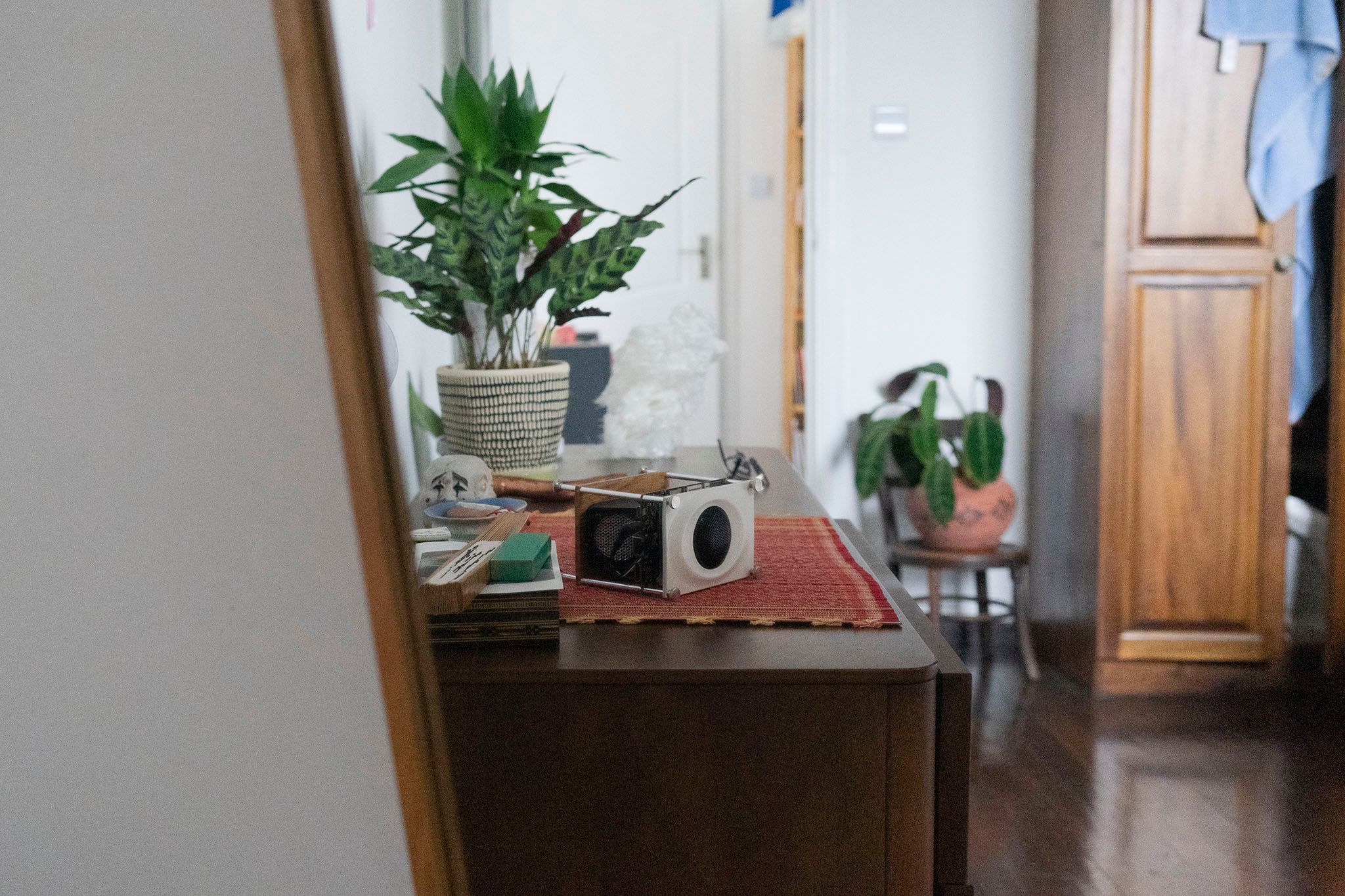 Full Code and workshop ressources are progressively shared online -> here
Main technologies involved: Mycroft Open Source Voice Assistant, Python, semantic analysis (via nltk), Wikipedia API, gpt-2 (Machine Learning Language Model).